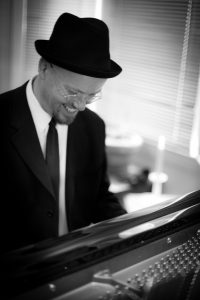 David Matheson is a multi-instrumentalist, singer, music producer and the owner of Toronto Music Studio.
A founding member of platinum-selling, JUNO nominees Moxy Fruvous, he has written a lot of music and performed all over the world.
David Matheson currently plays piano with world-renowned singer-songwriter  Ron Sexsmith. When not out touring, he performs classic jazz and popular songs on piano (or guitar) in fine Toronto restaurants and hotels.
He's played with John McDermott,  James Keeleghan, Royal Wood, Sarah Slean, Cindy Church, the Arrogant Worms and many others.  David led the house band at tapings of The Royal Canadian Airfarce for it's final 8 years, singing funny songs and playing guitar or banjo.  When not performing, he both studies and teaches music, and produces recordings for others.
For more information on David Matheson's experience and background, please visit www.davidmatheson.ca.