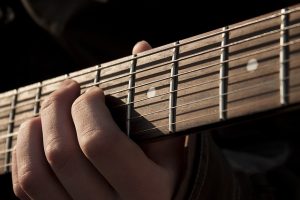 We offer guitar lessons for adults, beginner to advanced in Toronto's East End.
Whatever level you're currently at, our guitar lessons will expand your understanding, and we'll look together at whatever is in the way of your easy musical expression. Are you a beginner? Want to strum your favourite songs? Or do you want to become a better improviser and soloist? Finger picking? Hot leads?
We can help you learn to play guitar in whatever style you desire.
As you develop your skills, we can arrange to record tracks in our professional recording studio and voila, you're a recording artist with something to show for it.
Sarah Slean says, "Dave Matheson is the consummate musician: fluent, adaptable and sensitive, with a wide set of skills and an incredible ear."
Lessons are scheduled at a mutually convenient time.
Lots of guitars here if you arrive without yours.
GUITAR LESSONS PRICING
$60/hour
SCHEDULE A GUITAR LESSON
---
"I have been seeing Dave for about 3 years for guitar and voice lessons. He has helped me improve my "ear" as well as my guitar playing. He is proficient in both guitar and piano. He is personable, patient, easy going and passionate about music as well as teaching." – Joram Kalfa, 62