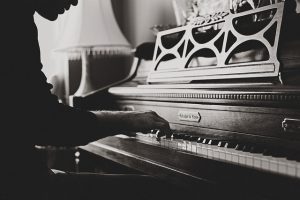 It really is such fun, playing the piano. Whatever styles appeal, wherever your skills are at currently (beginners and beyond), if you want to read notes from the page, or learn to be the person at the party leading sing alongs from the piano, we can build up any of these abilities. The physicality of playing, expanding your knowledge about the content of music, (what the heck is this?), our piano lessons cover it all. It's a holistic activity, it takes all of our presence to play music well, so that's the way we look at it.
Lessons are taught by musician David Matheson who has spent over a decade on keyboards for legendary songwriter Ron Sexsmith. Ron says, "Dave Matheson is one of the classiest and most versatile musicians I've ever heard and those who've had the pleasure of working with him know exactly what I'm talking about."
PIANO LESSONs PRICING
$60/hour.
SCHEDULE A PIANO LESSON
---
"Dave is transforming the way I am learning music. Far from the stressful piano lessons I took as a kid, Dave's approach is always positive and engaging. He is an expert teacher, an encouraging coach and an inspiring example. Step by step, Dave is helping me to improve my sense of rhythm, develop my ear for the notes and cultivate my passion for the blues. My piano lessons with Dave on Thursday afternoons are a favourite part of my week." – Alana Guinane